Liquid separation from gas, air or steam flows - Kelburn Engineering
Gas and Air Separation
Kelburn Engineering Limited are a world leader in liquid from gas separation technology. Producing a complete range of gas separation equipment for the process, power and petrochemical industries.
Our separators are designed to cover all gas and compressed air applications.
High Efficiency Coalescent Cyclone Separators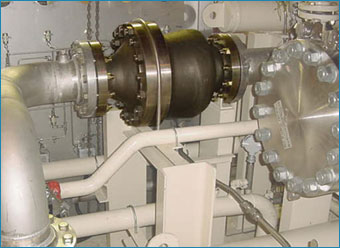 MKII KS Coalescent Cyclone Separator
Liquid droplets within the gas flow at both start up and during normal operation may cause the following problems.
Equipment damage due to erosion and/or corrosion.
Reduction in process efficiency due to lower heat transfer rates.
Increased maintenance and downtime.
Process contamination due to liquid carryover.
Impact damage to mechanical components.
Pipeline corrosion.
The Kelburn Engineering Coalescent Cyclone Separator both protects equipment and prevents the problems associated with liquid entrainment in gas or compressed air. The separator range has been proven in service world wide.
Liquid Droplets Coalescing Through 1st Stage Agglomerator
Cyclone Separator Operation
The Coalescent Cyclone Separator has a two stage separation design. The first stage agglomerates the fine liquid particles causing them to coalesce by bringing the droplets together, increasing their size and mass. The second stage then utilises profiled defector blading which imparts powerful centrifugal forces to separate all the liquid droplets from the gas flow. The liquid exits the separator from a volute contoured drain.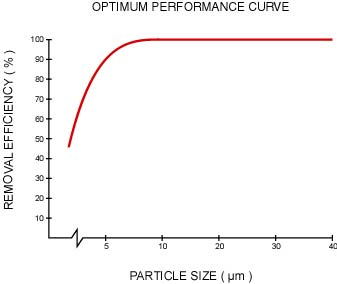 Performance
These highly efficient, flow driven separators remove all droplets down to 10 microns in size and 80 - 90% in the range 5 - 10 microns. The separator operates with overall extraction efficiencies of more than 99.5%.
The Kelburn Engineering separator generates a very low pressure drop, typically less than 1% of the system operating pressure.
Design Features
Inline inlet and outlet.
Low pressure drop.
No moving parts.
Body of cast construction allowing manufacture in all material specifications.
Internal contoured profile and volute drain for improved flow and separation.
No maintenance and no spare parts requirement.
Self clearing of separated liquids and solids.
Flange and pressure ratings up to ANSI 2500 and PN 160.
Separators specifically sized for each application, for maximum efficiency.
Full range of separator sizes DN 10 to DN 1400
( ¼" to 56" )
Applications Gas
Liquid removal from all gases - H2, N2, CO2, NH3, O2, CH4, C2H6, etc
Pressure reducing valve, control valves and flow meter protection.
Gas compressor inlet protection
Liquid hydrocarbon removal from fuel gas lines.
Gas turbine protection on fuel / air mixing system.
Oil removal from gas turbine breather systems.
Oil removal from refrigerant gas.
Condensate removal from gas cooler outlet.
Corrosive liquid removal from process gas.
Reciprocating equipment protection.
Heat exchanger protection.
Applications Air
Air dryer inlet water removal, reducing regeneration costs.
Compressor inter and after coolers.
Liquid removal in primary airlines.
Air receiver outlet.
Instrument air.