Liquid separation from gas, air or steam flows - Kelburn Engineering
FUEL GAS CONDITIONING PACKAGES
Kelburn Engineering Limited provides a complete range of gas filtration and liquid separation equipment.
Over the last 15 years Kelburn Engineering has developed a complete range of fuel gas conditioning packages suitable for all applications of gas turbine and gas engine, both onshore and offshore. These units are fully assembled, tested and certified skid mounted modules.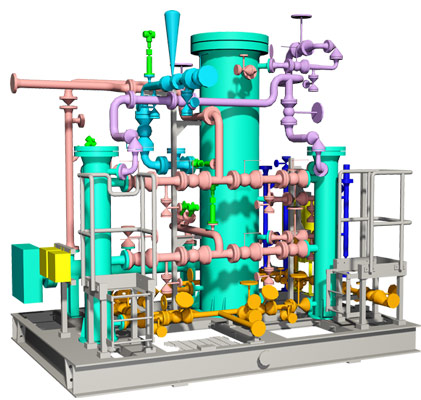 PRODUCT OPTIONS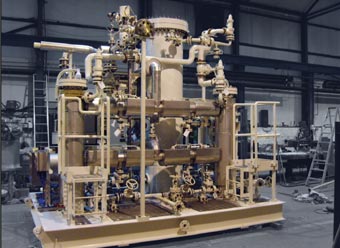 Fuel Gas Conditioning Skid
From small cost effective separator / coalescer filter skids with automatic liquid float drainers to self-contained, fully integrated gas conditioning packages having pressure control, gas scrubber, gas heater, duplex configuration coalescer filters complete with pressure - temperature monitoring and control systems.
Kelburn can offer a complete individually designed compact conditioning package to meet the exact process and equipment requirements of the customer, providing a clean, condensate free gas at the required pressure and temperature.
Our compact packages offer significant weight and space saving advantages for offshore and retrofit applications.
Our primary liquid/solid separation can be achieved by using space saving, highly compact Kelburn KS series cyclone separator or alternatively by a traditional scrubber vessel.
The final liquid and solid removal is achieved by using Kelburn KR series coalescing filters with standard liquid/solid removal efficiencies of 0.3 microns, although removal efficiencies down to 0.1 microns are also available.
Kelburn can provide gas temperature control by means of gas heaters, pressure reduction and regulation by means of control valves, liquid level drain control, valves and pressure - temperature transmitter instrumentation.
Duplex Coalescer Filter (Duty / Standby) Arrangement Gas Treatment Skid
PERFORMANCE
These highly efficient coalescing filters are available as standard with solid particle and liquid droplet removal efficiencies down to 0.3 microns. Other filtration retention ratings to suit customer specifications are available, typically: 0.1, 1.0, 2.0, 3.0, 5.0 & 10.0 micron.
Outlet gas temperature can be superheated above dew point to prevent the possibility of liquid condensation before point of application.
OPTIONS
Packages specifically designed for each application.
Package configurations available to suit all gas process conditions.
All gas flow, pressure and temperature ranges available.
Material of construction: carbon, low carbon steels, stainless and duplex stainless steels.
Flange size and pressure ratings to suit customer requirements.
Full range of non-destructive testing.
All design code options.
DESIGN FEATURES
Long operational duty periods between routine maintenance.
Low pressure drop.
Systems sized for each application, for maximum efficiency.
Compact footprint.
Full Design and Build Facilities.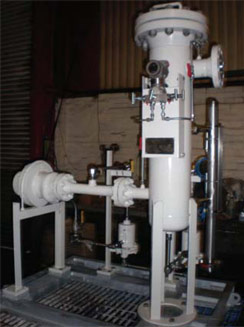 Fuel Gas Seperation Filtration Skid for Gas Turbine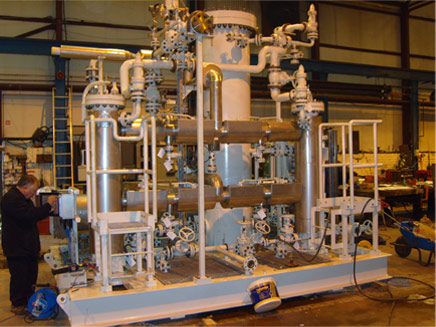 Fuel Gas Conditioning Skid