Liquid separation from gas, air or steam flows - Kelburn Engineering
GAS FILTRATION AND COALESCING PRODUCTS
Kelburn Engineering Limited provides a complete range of gas filtration and liquid separation equipment.
The Kelburn KR Series of coalescing filters removes both liquid droplets and solid particles from gas streams.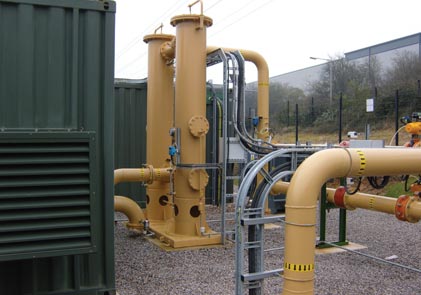 PERFORMANCE
These highly efficient coalescing filters are available as standard with solid particle and liquid droplet removal efficiencies down to 0.3 microns.
Other filtration retention ratings to suit customer specifications are available, typically: 0.1, 1.0, 2.0, 3.0, 5.0 & 10.0 micron.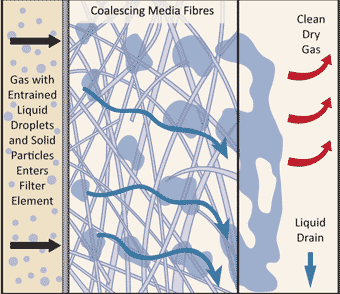 Operating Principle of Coalescer Filter Element
COALESCING FILTER OPERATION
Solid particles and liquid droplets entrained within the gas flow enter into the KR filter vessel, where the gas then passes into the coalescer filter elements. An integral pre-filter element design captures solid particles prior to the coalescing section of the element.
The gas next passes through a borosilicate glass fibre media, where coalescence of the entrained liquid droplets takes place through impaction on the microfine filter media fibres. The droplets attached to the fibres agglomerate together and due to their now increased mass, drain through and pass out of the filter element to the vessels drain section for removal.
Our large surface area pleated cartridge designs are used to increase gas throughput, provide compact vessel size, reduce gas velocity through the element to improve coalescence and avoid liquid re-entrainment, minimise pressure drops and to maximise the filter elements operational life span.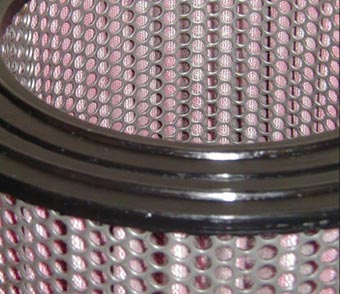 Coalescer Filter Element Showing Pleated Filter Media and Inner / Outer Support Cores
The filter elements themselves have an inner and outer support core for increased strength and pleating support.
FILTER PRODUCTS
Horizontal Coalescer Filters
Vertical Coalescer Filters
Separator Filters
Gas Scrubbers
Dry Gas Filters
OPTIONS
Filter configurations available to suit all gas process conditions.
All gas flow, pressure and temperature ranges available.
Quick opening closures for rapid filter element access.
Material of construction- carbon, low carbon steels, austenitic and duplex stainless steels.
Flange size and pressure ratings to suit customer requirements.
Range of internal and external coatings available.
Full range of nondestructive testing.
Design code options.
Skid mounted packaged designs.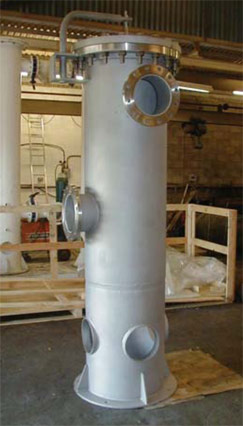 Gas Scrubber
APPLICATIONS GAS
Liquid hydrocarbon removal from fuel gas lines.
Natural gas filtration.
Liquid droplet / solid particle removal from all gases - H2, N2, CO2, NH3, O2, CH4, C2H6 etc.
Gas compressor inlet protection.
Condensate removal from gas cooler outlet.
Liquid hydrocarbon removal from fuel gas lines.
Heat exchanger protection.
Reciprocating equipment protection.
Gas turbine protection on fuel gas system.
Oil removal from gas turbine breather systems.
Compressor discharge oil removal.
Desiccant drier protection.
2-phase separation.
Pressure regulating system protection.
Dehydrator Protection.
Flare System Protection.
Amine Carryover Recovery.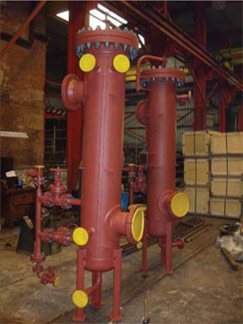 Gas Turbine Fuel Gas
KS Series Coalescer Filter
DESIGN FEATURES
Filter units sized for each application, for maximum efficiency.
High filter cartridge burst strength.
Full range of filter sizes.
Low pressure drop.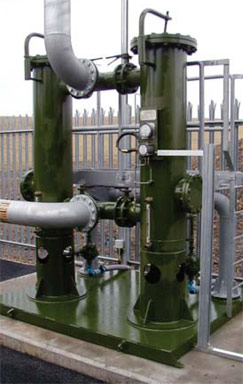 Duplex Arrangement
Coalescer Filter Skid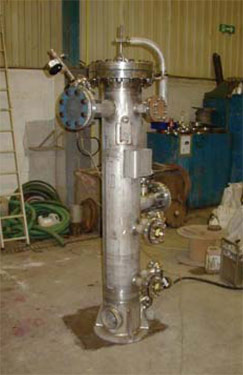 Gas Turbine
Fuel Gas Coalescing Filter